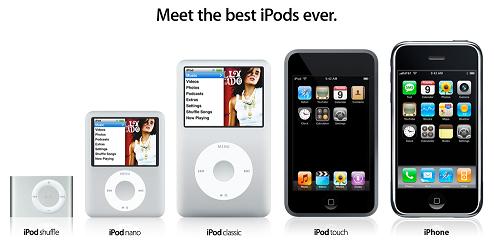 Looks like all of the different rumours were true. And my prediction weren't really wrong either, but then again, I guess a lot of the stuff was kind of predictable, although it was a surprise that really nearly all of the different rumours were correct this time.
– iPod shuffle "Product red, and other new colours.
– new iPod Nano. Yes, it is the "fatty", that was seen on Engadget and other sites already. Cover flow, but not touch sensitive. Available with 4G ($149) and 8G ($199)
– new iPod Classic. Basically the same new UI as the new Nano, 80G ($249) and 160G($349).
– new iPod Touch. Basically an iPhone without the phone! Same UI, multi-touch, and WIFI! Pretty nice. Available with 8G ($299) and 16G ($399)
– iTunes wireless store! Kind of expected when it became clear that the new iPod will have Wifi. Available on the iPod Touch and soon also on the iPhone as part of a software update.
– Pricedrop for the iPhone! The 8G version will be $399 instead of $599. Nice! The 4G version is gone.
In the end, a very nice line-up of new devices!
Update: As usual, I am rather disapointed to see the price here in the UK for these devices. Let me take the 16G iPod Touch as example: 399US$ in the US Apple store. 269£ in the UK store, which corresponds to 543US$. You would have to add the Sales Tax to the 399US$, but even after that, around 100US$ more to pay if you buy it here in the UK.